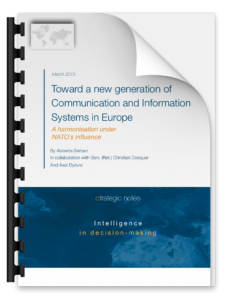 In a dual context of shrinking defence budgets and modernisation and transformation of their national armed forces, European nations have taken forward the development of new Communication and Information Systems (CIS).
The conditions under which these developments take place derive from a triple pre-requisite:
Rationalise communication and information systems;
Avoid duplications and save money;
Acquire technologies to meet operational needs and the requirements of network- centric operations.
The objective of this Strategic Note is to present and compare the main Communication and Information Systems programmes currently undertaken by European countries. This overview of CIS programmes in Europe serves the purpose of describing these programs and the ways in which they are being developed.
Seeking to understand the context in which these developments take place, this study also highlights the operational and normative influence exerted by the North Atlantic Treaty Organisation (NATO) on the development of European CIS programmes.
About the authors
Axel Dyèvre is the head of the Defence & Security Practice at CEIS. He has also been in charge of the CEIS-European Office since its creation in 2006. Axel started his carrer as an officer in the French Forces. A consultant in strategy from 1995 to 1997, he was then a Senior Partner at DATOPS (now LexisNexis Business Information Solutions), a firm developing information systems, between 1997 and 2005. Axel has been a part of the CEIS expansion since its beginnings in 1997, and he has opened the CEIS-European Office in 2006. He graduated in Business Management from the Ecole Supérieure de Commerce de Paris (ESCP Business School).
Christian Cosquer is Général de brigade (2S). He has been an Expert Consultant with CEIS since 2013. Général Cosquer graduated from the École Spéciale Militaire de Saint-Cyr with an engineer's degree and graduated of the School of Electricity and Information Sciences (Supelec). At CEIS, General Cosquer is a member of the SIA Lab Team; he is in charge of the identification of innovative companies that can add value operational for the SIA and their support in the valuation of their assets before the Army representatives.
Asinetta Serban is a consultant at CEIS which she joined in June 2010. She is notably involved in the FP7 VIRTUOSO project and the FP7 RECOBIA project in which, in parallel with her involvement in the research activities, she is in charge of the engagement and relationship with the community of end-users: since 2010 over 200 end-users participated in more than 20 workshops. Asinetta also takes part in the daily management of the EUROSINT FORUM, the pan-European network of intelligence professionals.
Télécharger